[:SK]
Slobodný domov bez záruky
Tento projekt vznikol ani nie tak z našej vôle, ako z vôle Boha, osudu, či kto v čo verí. Nevznikol preto, aby sme mali o čom písať, ale mali kde bývať. Nie je to univerzálne riešenie bytovej otázky, ale našej osobnej, pre vyriešenie našej jedinečnej situácie. Je skonštruovaný pre potreby našej rodiny a nie ako katalógový domček. Verím, že tomu rozumiete a vezmete si z projektu Slobodný domov len to, čo potrebujete a nebudete seba a iných zaťažovať tým, čo nepotrebujete:-).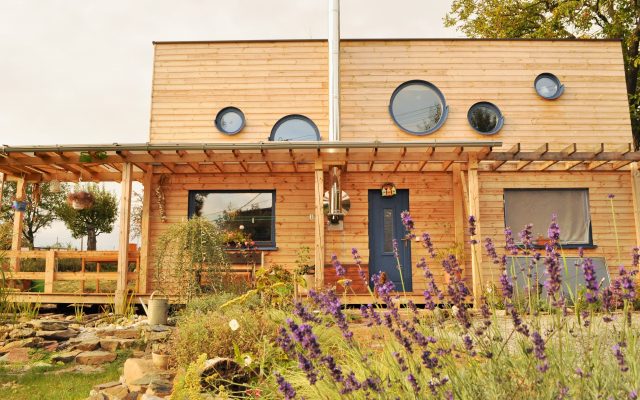 Naša cesta k bývaniu
Ako som v úvode spomenula, naše komplikácie s bývaním nevznikli len tak náhodne. Všetko čo sa nám udialo bolo aj preto, aby sme nezabudli na to, prečo sme museli odísť až tak ďaleko.  Začať žiť inak, teda podľa seba a nie podľa predstáv iných. V skratke, sme rodina s dvoma malými synmi, ktorá odišla na tri mesiace dobrovoľníčiť na novozélandské ekofamy, aby reštartovala svoj život plný zhonu. Po návrate domov, sme predali dom, kúpili starý sad, ktorý postupne premieňame na permakultúrnu záhradu a v neposlednom rade, sme si plánovali postaviť slamený rodinný dom. Keďže nejde o rozprávkový príbeh, ale skutočný život, nie všetko v ňom vychádza podľa predstáv. No sme presvedčení o tom, že na každú komplikáciu existuje riešenie. Namiesto slameného rodinného domu,  sme si postavili dočasný, mobilný dom, ktorý je našim dočasným zariadením staveniska. Spletitý príbeh od Slamáku k mobilnému drevodomu si môžete prečítať v článku Mobilný dom miesto slameného. Čo sa stalo?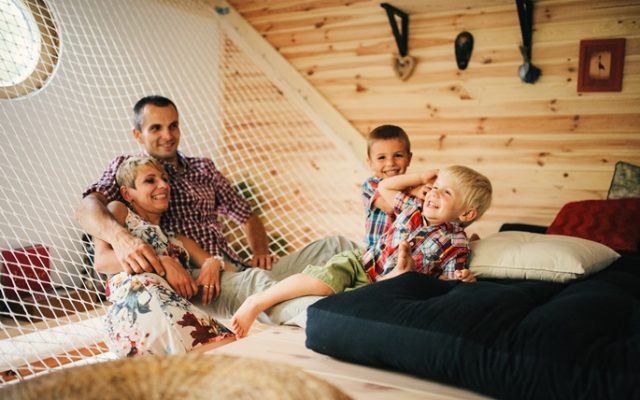 Mobilný dom
Všetko je tak, ako má byť. V relatívne krátkom čase, rýchlo, ekonomicky, ekologicky  a flexibilne sme potrebovali vyriešiť bývanie. Preto vznikla myšlienka drevodomu, ktorý je konštrukčne vyriešený tak, aby sme ho po doslúžení mohli odviesť novému majiteľovi. Rozmery domu  (vyše 3m x 10m) sú prispôsobené rozmerom potrebným na prepravu kamiónom.  Skladá sa z dvoch samostatných dielov – prízemia a druhého poschodia, ktoré sú navzájom priskrutkované.  Obe časti sa žeriavom naložia na dva kamióny a dopravia na miesto určenia. Rozložením na dve časti sme zväčšili veľkosť domu a umožnili transport. Dom je pripojený na inžinierske siete, na prípojku vody, elektrickej energie a kanalizáciu. Strecha je zelená – vegetačná, čím sme vyriešili otázku prehrievania sa plochej strechy. Dom je postavený z ekologických materiálov, na čom nám záleží, či už z pohľadu ekológie Zeme, alebo zdravia našej rodiny.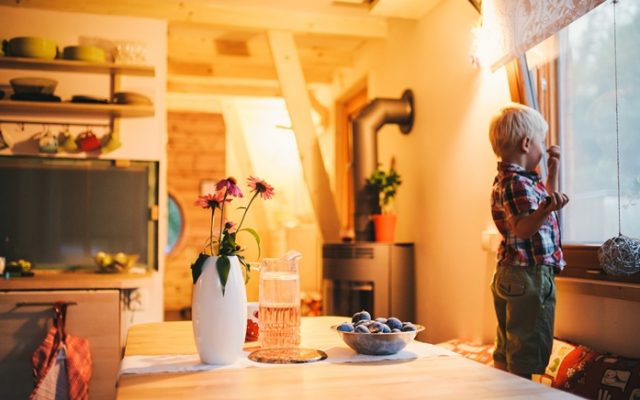 Miesto slamy drevo
Ide o ekologický (drevodomy zanechávajú jednu z najnižších uhlíkových stôp) drevodom, preto má drevenú rámovú konštrukciu. Je difúzne otvorená a na jeho izoláciu sme použili ekologickú izoláciu ECOSE technology bez formaldehydu, založenú na rýchlo obnoviteľných materiáloch, na rozdiel od materiálov na petrochemickom základe. Pri celej výrobe domu sme mysleli na použite prírodných spojív bez formaldehydu, fenolov, akrylátových živíc, či prídavných umelých farbív.  Uvedomujeme si, že dom nie sú len steny a krásny nábytok, ale aj jeho skladba, ktorá výrazne ovplyvňuje psychické a fyzické zdravie. Snažili sme sa postaviť malý, ale za to kvalitný domček, ktorý bude tešiť všetky naše zmysly, vôňu, dotyk, zrak aj sluch. Z množstva produktov na trhu sme si vybrali tie, ktoré sme uznali za najkvalitnejšie a najvhodnejšie na vytvorenie nášho zdravého domova.Uvádzame preto tie, s ktorými máme vlastnú skúsenosť a ktoré nám odporúčali odborníci v daných oblastiach.
Domov nie je len pre oko atraktívny interiér, ale aj príjemné pocity z bývania s pôžitkom, z interiéru, ktoré hrá na všetky zmysli.
Prírodné materiály 
Na výrobu stien sme použili síce OSB dosky, ale v kvalite E0 (opäť bez formaldehydu). Ak sa aj nejaký v dome uvoľní, zachytia ho špeciálne sadrokartóny Rigips Activ'Air, ktoré viažu formaldehyd a odstraňujú ho z ovzdušia. O zdravú klímu sa postará aj drevený obklad z červeného smrekovca od spoločnosti WCUT, ktorá má v interiéri liečivé antibiotické a aromaterapeutické účinky. Pôžitok z chodenia po teplej a mäkkej podlahe zabezpečil korok a prírodné marmoleum na zemi, ktorý okrem iného aj príjemne vonia od spoločnosti Trems s.r.o.. V dome sú použité nábytky hlavne z masívneho dreva, bez laminátu, melamínových fólií,  drevotriesky  a podobne. Výnimku tvorí kuchyňa, ktorú sme podobne, ako niektoré stavebné materiály (napr. dvoje okrúhle okná), zohnali cez internetový bazár. Kuchyňa bola z novostavby, v ktorej ju noví majitelia nechceli, pretože sa im nepáčila. Našej kuchyni linka sadla ako uliata.
Týmto krokom sme zabili dve muchy jednou ranou. Ušetrené tisíce za novú kuchyňu sme investovali do kvalitných prírodných materiálov a recyklovali sme nábytok. 
Technológia 
Masívny nábytok v dome je vyhotovený z veľkej časti svojpomocne, preto sme potrebovali objednať celé tabule drevených plošných materiálov na jeho výrobu od Démos trade. Veľké tabule vodeodolnej preglejky sme využili na vytvorenie priečok prírodnej kúpeľne z dreva a marmolea, bez použitia keramickej dlažby, či obkladu. Viac o materiáloch v mobilnom dome v článku Z čoho postaviť slobodný domov a skutočný domov. V neposlednom rade sme prihliadali aj na efektívnu a zdravú technológiu. Kúrenie v dome sme preto vyriešili infračerveným podlahovým vyhrievacími fóliami od Ramis eu, jednotkou na trhu s heatflow. Tieto elektrické podlahové fólie má rovnakú vlnovú dĺžku ako je vlnová dĺžka človeka, preto nevytvárajú škodlivý elektosmog. Doplnkom k zdravému kúreniu a (tiež záložný plán v prípade výpadku elektriny) sú krbové kachle od spoločnosti Thorma. Viac o celej technológii domu v článku Technologické "vychytávky" mobilného domu.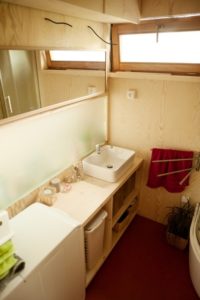 Ťažisko materiálov tvorí drevo, korok, marmoleum v kombinácií so sadrokartónom. Ešte aj v kúpeľni sme si namiesto keramiky vybrali vodeodolnú preglejku, masívny nábytok a prírodné marmoleum na zem, vďaka čomu pôsobí kúpeľňa teplo a príjemne.
Koľko to stojí?
Cena malého mobilného domu je relatívna. My sme si ho postavili svojpomocne. Manžel je stavebný inžinier a po porade s kolegami z rôznych profesií, narysoval technické výkresy a za pár dní, spolu s mojim otcom, vyhotovil všetkých 12 stien tohto drevodomu. Pozor, nikdy pred tým to nerobil a zvládol to. No je potrebné povedať, že je technicky veľmi zručný a vďaka svojej profesii má technické uvažovanie. Samotná montáž už bola "brnkačka". V každom prípade, či už svojpomocne, alebo s firmou, malý dom stojí vždy menej, ako veľký. Je preto dostupnejší, a to ako pre mladých, tak aj pre starších. Ak ste zručnejší, môžete sa pustiť do stavby svojpomocne, lebo opäť väčšinou platí, že na malom je menšie riziko komplikácií a zložitostí. Cena len pre orientáciu sa pohybuje od 15 tisíc eur, ak sa rozhodnete pre svojpomocnú realizáciu a lacnejšie materiály. Čím viac práce si dáte urobiť a čím kvalitnejšie materiály uprednostníte, tým vyššia je jeho cena, ktorá môže narásť aj o ďalších 10 tisíc eur. Nás stavba pri štandarde, ktorý sme si nastavili vyšla bez ceny práce približne na 25 tisíc.
Podlahová plocha domu by mohla byť až 60m2, no uprednostnili sme otvorené galérie, aby sme priestoru dodali vzdušnosť, preto užívame len 45m2.
Neutopiť peniaze na pozemku
Myšlienka mobilného domu bola aj tá, aby sme nevyčerpali všetky úspory na stavbu rodinného domu a mohli bývať priamo na pozemku. Na jeho osadenie postačí aj prenajatý pozemok s prípojkami, nie je nutné ho hneď kupovať.  Podstatná informácia je tiež výška nákladov na údržbu takého maličkého domu. Výdavky na malý dom sú výrazne menšie, ako na veľký.  Samozrejme Slobodný domov, má aj nevýhody. Hlavne jednu. (O ďalších vám povieme po čase užívania.) Je malý. Ide skutočne o bývanie v malom vyše 3m širokom a 10 metrov dlhom domčeku. Je to preto aj odvážne bývanie, hlavne ak máte malé deti. Reakcie okolia nemusia byť práve chápavé a povzbudzujúce.  No v dome budeme bývať  my a nie oni, lebo žijeme svoj život a nie predstavy iných.
Veľké upratovania
Vytvoriť v takomto "domčúriku" nie provizórny, ale regulárny priestor pre štvorčlennú rodinu nie je vôbec jednoduché.  Túto úlohu nám pomohla riešiť interiérová dizajnérka Veronika Kotradyová. Spoločne sme si uvedomili, že nie je umenie navrhnúť veľký dom s množstvom možností, ale malý, tak aby v ňom malo všetko svoje miesto. Keďže je potrebné myslieť pozitívne, obrátili sme si vedome túto nevýhodu na výhodu. Museli sme opäť urobiť veľké upratovanie (na všetkých úrovniach) a vzdať sa mnohých vecí (niektorých aj so slzou), ktoré sme so sebou ťahali celé roky. Staré veci odišli a vytvorilo sa miesto pre nové. Energetický tok začal prúdiť.
Ak sa vám články na našom blogu páčia, prosím zahlasujte za náš blog v súťaži Bloger roka. Záleží nám na tom.Nejde o titul, nejde o výhru, ide o príležitosti, ktoré nám táto súťaž otvára. Aj vďaka nim vznikajú zaujímavé články.  HLASUJ TERAZ TU. Ďakujeme.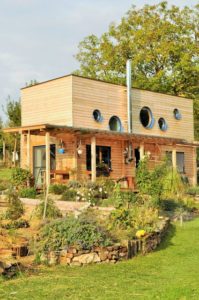 Viac informácií nájdete v článkoch na našom blogu, kde opisujeme celý postup, technológiu, interiér a život v mobilnom dome. Stačí si "zalistovať".
Mobilný dom miesto slameného. Čo sa stalo?!
Reportáž o stavaní mobilného domu svojpomocne I.
Technologické "vychytávky" mobilného domu – reportáž pokračovanie II.
Z čoho postaviť slobodný domov a skutočný domov III.
Exkluzívne! Rozhovor s konštruktérom mobilného domu
Korok mäkký a teplý ako sám domov
Sadrokartón v mobilnom dome ako prírodný materiál?
Čo sa ukrýva pod dyhou alebo ako rozpoznať masív
Vôňu a dotyk dreva nenahradí žiadny iný materiál
[:en]

Missed the time to build a "strowball house" – live in a "mobile house"
Project LifeReset, an author project of life restart of a young family, was step by step introduced in several editions of magazine Ekobývanie. The family with two little sons decided to leave their home and to go as volunteers to New Zealand organic farms for three months. After returning home they sold their house, bought an old orchard, which is being remade into permaculture garden, and had planned to build a family strawball house. Since it is not a fairy tale but real life, not everything proceeds according to their wishes. Matúš family have shown again that for each complication there is an interesting solution. Instead of "strawball house" they built a temporary "mobile house".

When you are directed by life
To New Zealand we left after few months of efforts to change our hurried lives. The three months of voluntary help to farmers for food and lodging showed us, what we really need for a dignified and satisfied life. We lived in different houses, huts, at school, in an apartment. We have experienced what is luxury and what is modesty. After returning home, we planned to build a small two-room strawball house first, in order to test the construction from natural materials, and then gradually built a bigger family strawball house. This idea, to live in so small house with two children and then to build another one, was not accepted by our vicinage very well.  Under this pressure we decided to build directly a big family strawball house. But the truth is that it hasn't been destined to us. Why? For the project LifeReset declares to live life by yourselves and not by other's wishes.
After the catastrophe, the waters split up…
Building the family strawball house was accompanied by one obstacle after another. And finally, despite all matters were agreed, purchased, and prepared, the construction didn't begin. Lengthy processing was halted just before winter, when the straw cannot be used for building. Although we lived in a rented house, we had to move on. And this is how the life directed us back on our way. We have begun to deal with the "mobile house", which became our temporary site facility.  Quickly, economically and ecologically, we have solved our housing directly on the site by the mobile house, which could be sold after serving us. It could be loaded on two trucks and brought to the new owner.  In building of our temporary housing, the waters paradoxically split up and the house was finished in three months.

Mobile house is not yet fully completed, therefore its final design you will see in the next edition.
Do not drown money on the property
Mobil house is our Free home. We live in a small house but directly on the site. It may also be an option for people who want to try multigenerational housing on the property of parents or grandparents, without being committed to one place for the rest of their lives. Or to offer this housing to parents and you with family can move to your parent's house. On the other hand, if you decide to move one day, you can do it with the entire home, which you have built.
How much does it cost?
Price of a small mobile house is relative. We build it ourselves. My husband is a civil engineer and after consultation with colleagues from different professions he draft technical drawings and together with my father they made out all 12 walls of the wooden house in a few days. Attention, never done this before and could do it anyway. The installation itself was already a "piece of cake". In any case, either you do it yourself, or you hire a company, a small house is always cheaper than a big one. It is therefore more accessible, both for the young and for the elderly. If you're more skilled, you can build it yourself because once again – at small house there is less risk of complications and complexities.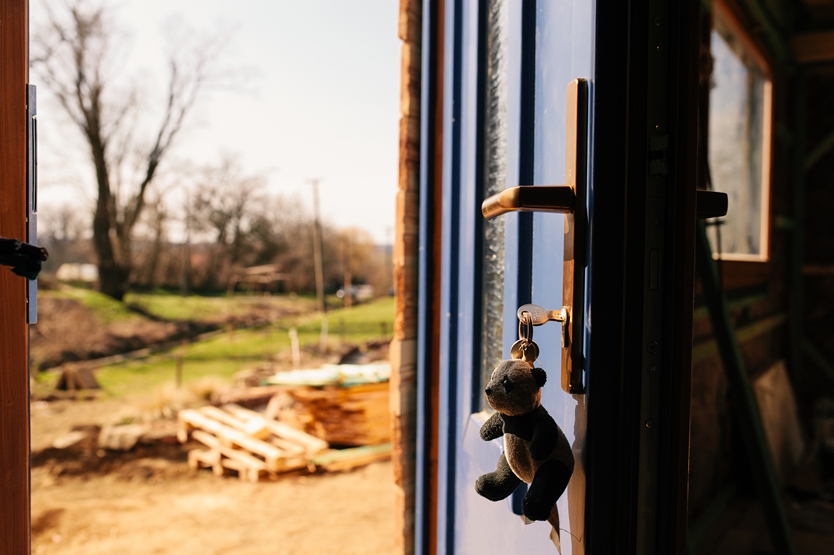 Price of a small mobile house is very relative. If you build it alone and low-cost, you need a budget around € 15,000.  The more work you have to get done and what better material you prefer, the final price rise by a further € 10,000.
Tiny but our own
Regarding to the saving of money and to the debt level, a big impact also has the fact, that the mobile house you can build anywhere. It is sufficient to lease a land with water and electricity connections and you don't need to buy it immediately. Substantial is also the information about the maintenance costs of such a tiny house. Expenditures related to small house are significantly lower than to the large one. Calculate how much you pay monthly for maintenance, rent, hire, and multiply it by twelve. This is how much you invest in housing. If you don't mind and it doesn't burden you, enjoy your comfort. There is nothing wrong. But if it is burdensome for you, try to think through your expenditure at housing and to find a more economical solution.
Large or small disadvantage
Naturally, this Free home has also some disadvantages. Especially one. (The more we can tell only after some time of using it.) It is small. It is really about living in a small, over 3 meters wide and 10 meters long, house. Therefore it is a bold way of housing, especially if you have small children. The reactions of your surrounding may not be compassionate and encouraging. But it is you, who will live in the house, not them, and you live your own life, not wishes of the others. It is not easy to create in such a "tiny house" not only temporary but a regular space for a family of four. This task has helped to solve us the interior designer Veronika Kotradyová. Together we have realized that it is not a big deal to design a large house with many opportunities but it is much more challenging to design a very small house where you need to place everything for life. Since it is necessary to think positively, we consciously turn this disadvantage into an advantage. Once again we had to make big cleaning and give up many things (some of them very difficult), we dragged with for many years. Old things has left and created the space for the new. The energy began to flow.

Architect Milan Grega- Jakub proposed to build a canopy around the house, which will have a protective function, since the house is facing south. Its construction is still under preparation.
Healthy materials affect our lives
The dimensions of the house are adapted to the dimensions required for transport by truck. It consists of two separate parts – the ground floor and second floor, which are screwed together. Both parts can be loaded by crane on two trucks and transported to the desired destination. By dividing into two parts we have enlarged the size of the house and allow transport. The house is connected to utility networks, the connection of water, electricity and sewerage. The roof is green – vegetative, what resolved the issue of overheating flat roof. The house is fully organic, that's what is important for us, either in terms of ecology of the Earth or the health of our family. In the construction, as well as in the interior, natural materials are used.
Wood instead of straw
This is a wooden house with wooden frame structure. It is open for diffusion and for isolation we used organic insulation EKOSE technology without formaldehyde, based on rapidly renewable materials, unlike petrochemical materials. At the production of the house used only natural adhesives without formaldehyde, phenols, acrylic resins, additives or artificial colors. For walls were used OSB but in the quality E0 (again excluding formaldehyde). The healthy climate ensures the wood paneling of Nordic pine, which has indoor and aromatherapy therapeutic antibiotic effects.
Housing by all senses
Why do we so much insist on the ecology of our house? Because the house are not only the walls and beautiful furniture but also its composition which significantly affects the mental and physical health. We have tried to build a small but high quality house, which will delight all our senses. With smell and touch of wood. With sound. Small feet "flatties" differently on cork, than to laminate. By looking at the materials that surround us for thousands of years, as wooden structures, the structure of bark or organic oval and round shapes. On the other hand, even the invisible parts of the wall create the feeling of comfort and style. Insulation, adhesives, and other materials of constructions usually contain a lot of chemicals, which can unintentionally hurt our body.

We love round windows, even when we awaited major complications with their assembly and outer sills. Therefore they are still not final on the pictures.
Savings lead to creative recycling
Natural materials can be more expensive. Therefore we had to make some trade-offs. For example, instead of cheaper plastic windows we wanted wooden. To quote an expert on wood and lumber Richard Bielek – "Today is IN healthy lifestyle, healthy diet, etc.. but people are able to give on their facade products, that after irradiation the sun, releases gusts of landfill. They are gradually into the house, they don't feel them but they breath it for long time." True, round wooden windows are significantly more expensive. However, we found out a viable option how to have them and not spend a lot of money. We have got them through the internet bazaar. They were second-hand but still unused. "Miraculously" they were waiting for us because the round windows are still rare. From the bazaar we have got a lot of building materials, in order to invest the saved money to quality wood, cork and other healthy materials. Of course, it is our view of the quality of housing and no universal recipe. It is not applicable for everyone, whereas people have thousands of different priorities. For us it is important that we finally fulfill our own vision of housing and not visions of other people 🙂
Written by: Zuzana Matúšová Girgošková, www.lifereset.sk
Photos: www.helenakurus.sk a www.tomasbencik.com
Coauthors:

Ing. Ján Matúš
Civil engineer with specialization for building equipment – heating systems with an emphasis on renewable resources. He is an author and implementer of the project of our Free home. Thanks to his technical and creative approach the project has all the technical drawings, chassis design and a lot of nailed nails. The project is not for sale at the moment and we don't provide any mobile house constructions but you can participate in the upcoming lectures on how to create a Free home yourself. Follow www.lifereset.sk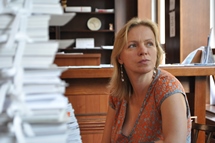 Doc. Ing. Veronika Kotradyová, PhD.
The interior of the house is designed by interior designer Doc. Ing. Veronika Kotradyová, PhD., who specializes in the impact of design on the human body and mind (Body Conusious Desing). She is the founder of BCD Laboratories, which is research, training and development department of the Faculty of Architecture, to design with respect to humans and is representative of the Slovak Association for Body Conscious Design.

Layout and architecture of mobile house is designed by architect of known architectural studio RULES Milan Grega – Jakub. Our common vision was to link modern shape building with a permaculture garden and the whole environment of the old orchard. Thanks to atypical round windows, which were irregularly spaced according to his proposal, we have reached a natural "organics" and harmony. By using natural materials – wood paneling, windows, and the green roof – house pleasantly fits to the surrounding and created a still life among old trees.
 [:]