Welcome to the LifeReset world
It is made up of harmony with nature, a healthy home and a life story of a family with 5 children. Get to know us and let us be your guide in making your dreams come true.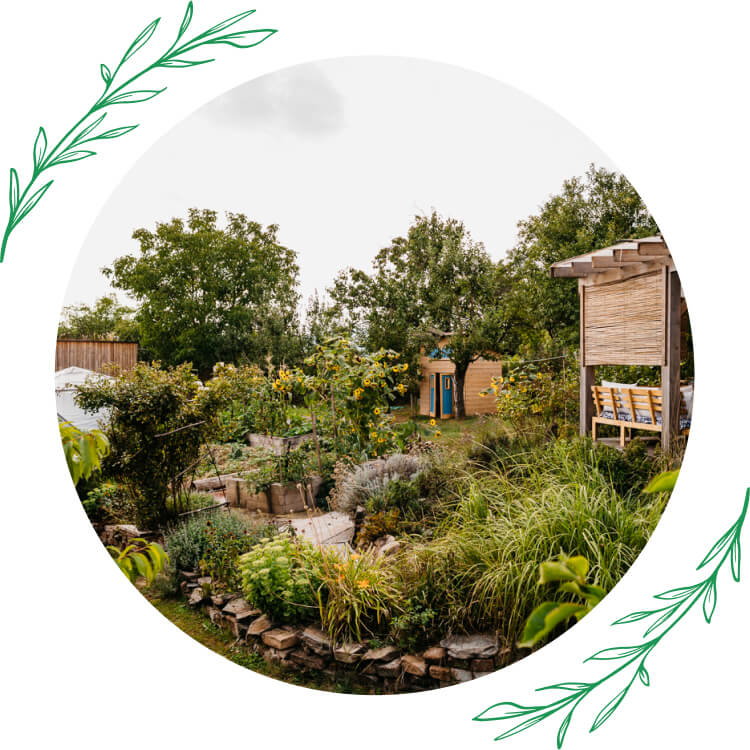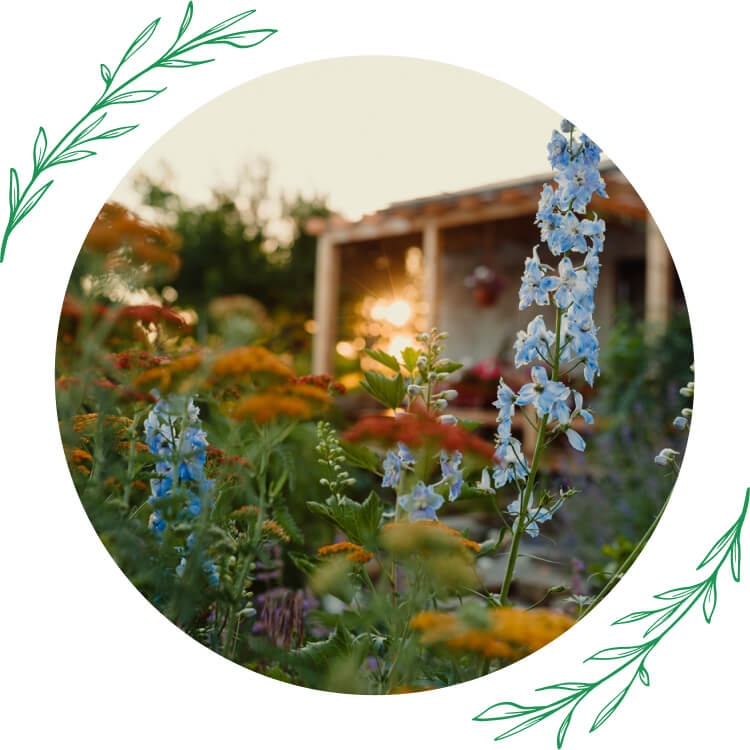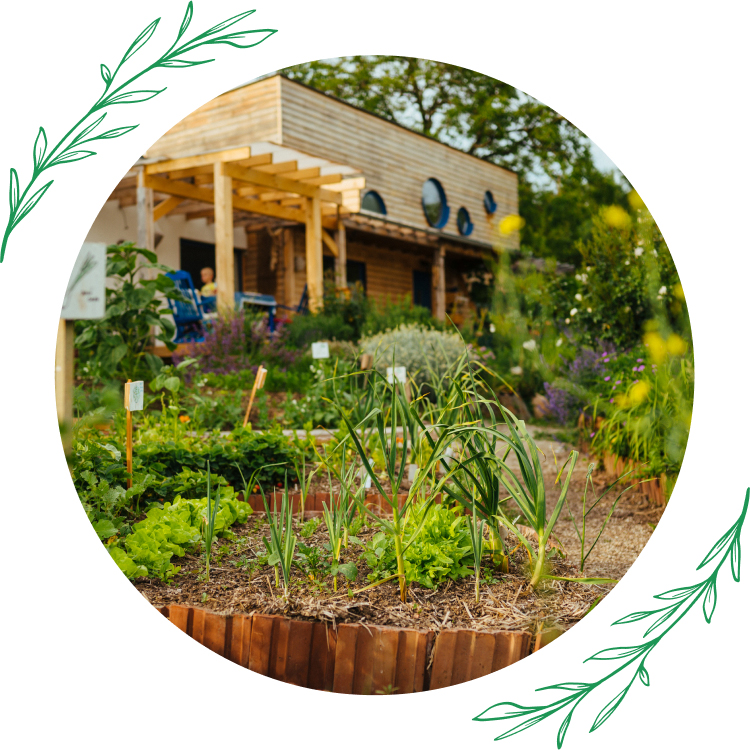 A family that completely changed their entire lives in 2013. From a standard lifestyle to a life in harmony with nature and a large family.
We are the Matúš family, we have five children and we are living in an old orchard which we changed into a permacultural paradise. Here we have built a healthy, ecological house on our own. Today we are helping people build healthy houses, which you can learn more about at www.homereset.sk. For several years we have been lecturing on permaculture, healthy living and life restart, a change that brought peace and balance to our lives.
What we write and talk about, we also really live, that's why thousands of people follow us on social networks. We wrote three books and made a documentary film named Happy people live in a healthy house. Throughout Slovakia, we help people find their way back to nature and inner peace.
More about our lives and mission you can read here.
Permaculture with LifeReset
Courses about creating beautiful and functional garden
We will teach you how to plan and create beautiful edible garden without a lot of toil. We will teach you to grow your own bio food.
Advantages of our courses:
It's time to dust off all the wisdom of our ancestors so that nature, freedom, health and self-sustainability can enter our lives.
Healthy HOME with Homereset
We are building ecological houses from natural materials.
We have created 5 concepts of healthy and efficient houses. We build them from certified straw ecococon panels. They have green grass roof, interior is from natural materials such as wood, cork, marmoleum or clay. They are in a modern, fresh design.
Advantages of our houses:
Our clients greatly appreciate our human approach. Our motto is that we don't just build walls with a roof, we create a real HOME.
Our blog is one of the first in Slovakia. It has received three awards and has a deep content. You can read useful and practical information and also articles to soothe the soul.
Od Zuzana Matúšová Girgošková
Zdravá záhrada bez chorôb a škodcov? Áno, aj to sa dá docieliť… Zdravá záhrada je nielen esteticky príjemná, ale aj prospešná pre naše…
Od Zuzana Matúšová Girgošková
Efektívne pestovanie Pestovanie nemusí byť drina a rovnako nemusí byť úspešné len s použitím umelých hnojív a chemických postrekov. Som lektorka permakultúrnych kurzov a permakultúrna dizajnérka. Za…
Od Zuzana Matúšová Girgošková
Stretávam sa s reakciami ľudí, ktorých navštívim v ich záhrade, že ich záhrada nie je permakultúrna, lebo nemajú vyvýšené záhony. Aké oslobodzujúce je počuť,…
Od Zuzana Matúšová Girgošková
Dvadsiateho štvrtého decembra je Facebook aj Instagram plný fotiek najprv nablýskaných vianočných stromčekov a potom roztrhaného papiera. Veď to je také krásne, keď…
Od Zuzana Matúšová Girgošková
Celý rok sa na ne tešíme, najmä deti. Pre ne sme ochotní urobiť niekedy všetko. A to všetko si často vypýta veľkú daň. Poďme…
Od Zuzana Matúšová Girgošková
Nech bude raz naše dieťa remeselník, vedec alebo obchodník, v práci i súkromnom živote veľmi ocení schopnosť dokázať sa empaticky vcítiť do situácie,…
Od Zuzana Matúšová Girgošková
Z rôznych strán neustále počúvam – chceme bývať viac v prírode, pestovať si vlastnú zeleninu a žiť v súlade s prírodou. Vďaka za tento…
Od Zuzana Matúšová Girgošková
Čaro éterických olejov som spoznala pred piatimi rokmi. Nazačiatku to bolo o pomoci pri liečení detských soplíkov kvapkami do nosa z nich. Postupne som sa…
Od Zuzana Matúšová Girgošková
Rada by som s vám opísala príbeh radostneho tehotenstva. Nebude taký. Pritom ho nepostrehla žiadna tragédia, "len negatívne" emócie. Týchto 9 mesiacov má…
Od Zuzana Matúšová Girgošková
To by jeden neveril, že bábätká nepotrebujú plienky. Ani ja som tomu veľmi neverila, pretože to chce vnímať signály dieťaťa. Hovorila som si, že…
Od Zuzana Matúšová Girgošková
Alebo ako s prírodou spolupracovať a neriešiť burinu V záhrade nám rastie pýr lepšie ako reďkovky, mrkvy sú stočené a malé, skočky zamoria celé kaleráby a zo špenátu…
Od Zuzana Matúšová Girgošková
Dobrý štart do života je kľúčom ku šťastiu… Dobrý štart zaručí, že život nebude musieť prejsť reštartom. Lifestart Nie je jedno, ako sa…
Still wondering if LifeReset is the way for you? Read the comments of people who were inspired by our books, courses or have a house built from us.
Explóziu nadšenia vo mne vyvolalo sledovanie filmu o ich rodine "V zdravom dome žijú šťastní ľudia". Celá uchvátená som sledovala ako vybudovali svoj raj na zemi, lebo inak sa ani nedá nazvať miesto kde žije celá rodina Matúšovcov. Zuzka a Janči sú jednoducho skvelí, inšpiratívni ľudia a je šťastie, že vôbec takí ľudia medzi nami existujú. Pustiť sa do tvorby záhrady či stavby domu podľa svojich predstáv? So Zuzkou a Jančim určite :-).
Ďakujem za hodnotné knihy. Neviem sa od nich odtrhnúť. Urobili ste kus úžasnej práce. Máte môj úprimný obdiv. Teším sa na čítanie a hlavne na jar, kedy budem môcť začať pracovať v záhrade. Želám vám všetko len to najlepšie a ďakujem.
Pozdravujeme Vás, Zuzka a Janči! V prvom rade sa chceme poďakovať za všetky články a vlogy, do ktorých vkladáte okrem svojich znalostí a skúsenosti určite aj veľký kúsok seba – ĎAKUJEME ♡ V praktickom živote nám pomáhajú aj Vaše knihy. Nech sa Vám darí s láskou, radosťou a hojnosťou napĺňať Váš život a popritom inšpirovať aj nás ostatných.
PaedDr.Mgr. Aurélia Plávková Tináková, PhD.
"The goal is to motivate the reader to create their own permacultural garden. Gardens that are an inspiration for further development, research, reading and testing. Photo procedures, authentic shots of family, friends and experts are valuable.. Each chapter is lively, motivating, beneficial for the reader. Whether he is an expert or a novice. We also liked the ideas and the innovative but at the same time practical approach to creating a new type of garden in our conditions. Transforming a park-type garden into an edible garden. We were impressed by how wonderful and lively the children are interested in
"I met Zuzka at a permacultural design course, which I actually went to thanks to her article about permaculture in a magazine, where I came across this word for the first time. Since that moment, permaculture kept me awake, I read more and more books to find out as much as I can about this way of life. Later I got inspired by her articles on Lifereset that I even went to volunteer on permaculture farms in New Zealand thanks to my desire to travel! Thank you Zuzka for other insights that I continue to gain, thanks to reading
"Zuzka, the magnet is more than perfect! It's absolutely brilliant! I finally found out that I am cyclical, too. Well, I thought I didn't have any fluctuations during the month…Since the magnet is hanging on our fridge, I already know that I have fluctuations. Mainly in performance, energy and strength. It is such a relief to allow myself to really rest during the menstrual phase and to know that if I rest now, even during the day with the children, I will be able to catch up next week without any problems. I no longer have to go to
If there is anything you haven't found in my articles, you will find it in my books.
Subscribe to our notifications and be the first to know about our offers and articles.